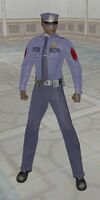 Overview
The RIP is an NPC ally you will find during the missions LSSL hires new security firm! and Multiple small casinos deposit big money with LSSL!. He will help you, but he's just a Minion and the guards tend to attack him, so it's very probable that he won't live much.
Information
Working as a private security guard in a 'city of villains' must be a very tough job.
Powers
During the heist, he used the powers of a regular RIP of his level:
Single Shot

Ranged, Lethal, Foe Knockdown

Fires a large slug at a single target at very long range. This very accurate weapon hits hard, and can knock down foes.





Assault Rifle Butt

Melee, Smash

A smash with the butt of your rifle.





Brawl

Melee, Smash, Minor Damage

When all else fails, you have only your two fists to depend on.





Ad blocker interference detected!
Wikia is a free-to-use site that makes money from advertising. We have a modified experience for viewers using ad blockers

Wikia is not accessible if you've made further modifications. Remove the custom ad blocker rule(s) and the page will load as expected.