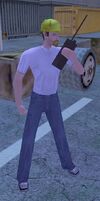 The Paragon Construction Foreman is an NPC near the door to the rebuilt Faultline zone, in Skyway City. He is not a contact. He was added with Issue 8.
The Paragon Construction Foreman will chat with his men by radio saying the following:
Sorry, friend, I got tons to do here. (If you talk to him)
Give me your status.
Yeah, the planners are here right now. Nah, I let the suits do what they're gonna do. I'll let you know if they come up with anything.
Look, mac, I understand you got a life, but we're ALL puttin' in overtime until we figure out what we're gonna do.
No. I don't want to hear about rituals or big groups of CoT. Forget them, they're gonna be the least of your worries if that dam breaks.
My wife's gonna kill me. It's gonna be another late night.
You want a WHAT?! We have a dam leaking and you're asking for a food break?
Well, we got some supplies out here, but not nearly enough if that crack continues to spread.
What did the surveyors said? WHAT?!
Look, all I am sayin' is, if we can't get the trucks in fast enough, there's gonna be problems. This is serious.
Are the crews in place? What? What do you mean? Send in some Paragon Police or something.
Ad blocker interference detected!
Wikia is a free-to-use site that makes money from advertising. We have a modified experience for viewers using ad blockers

Wikia is not accessible if you've made further modifications. Remove the custom ad blocker rule(s) and the page will load as expected.