Description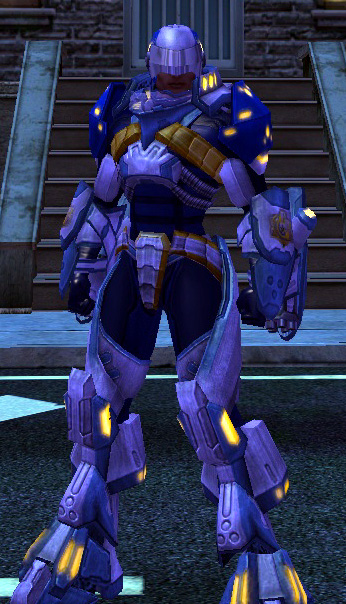 This costume will let you dress up in a Paragon Police Hard Suit at any time. Note that the costume is mutually exclusive with most self-stealth powers, and cannot be used while shape shifted. Thank you for joining us at PAX!
How to Get
Game codes for this costume power were given out at the NCsoft booth at the August, 2008 Penny Arcade Expo in Seattle, WA. One code permanently unlocks this power on all characters (Heroes and Villains, current and future) for one account.
Notes
Like the Halloween version, this costume looks identical on all characters. That includes always appearing as a non-Gigantic Male.
This costume has jets visible while flying. (CAUTION: Costume does not allow wearer to fly.)
Despite the name, the costume portrays a PPD Shell.
Power Summary
See Also
Ad blocker interference detected!
Wikia is a free-to-use site that makes money from advertising. We have a modified experience for viewers using ad blockers

Wikia is not accessible if you've made further modifications. Remove the custom ad blocker rule(s) and the page will load as expected.