This article is currently a work in progress. As such, it may contain some editing notes in addition to information. Please be patient, it is being worked on and will be in a finished state before long!
Magical Orbits that generate Control in a Supergroup or Villain Group Base.
Description
Edit
The orbits are fonts of power. Magical tendrils link them to your base defenses, allowing those defenses to be controlled.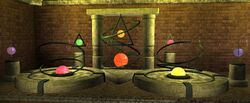 Additional Information
Edit
Base Element Type
Control
Price
1,500,000 prestige
Unlocked by
Supercomputer Badge
Energy Consumed
500
Control Produced
500
Crafted at
Not Crafted
Maximum Connections
9
Allowed Auxilary
Oracle, Bookshelf, Clerk Desk, Augury Table,
Mystic Advisor, Scrying Paintings, Mystical Bookshelf,
Seer Desk, Viewing Portal, Mystic Overseer,
Astral Haruspex, Pillar of Ice and Flame
It is worth noting that this item is significantly larger than its counterpart, the Supercomputer, and does not fit in the 2x2 Control Room.
Ad blocker interference detected!
Wikia is a free-to-use site that makes money from advertising. We have a modified experience for viewers using ad blockers

Wikia is not accessible if you've made further modifications. Remove the custom ad blocker rule(s) and the page will load as expected.