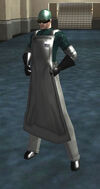 Overview
Edit
Norris Senaca belongs to the Scientist faction.
He is an ally in the first mission during Sister Psyche's Task Force.
Information
Edit
This researcher has been forced to do some sort of work for the Freakshow. It's hard to imagine how the Freaks go interested in sonic technology, but it's a solid bet that they plan on using it for destruction.
Previously, some of the mission information referred to him as "Brent Thomas".
Ad blocker interference detected!
Wikia is a free-to-use site that makes money from advertising. We have a modified experience for viewers using ad blockers

Wikia is not accessible if you've made further modifications. Remove the custom ad blocker rule(s) and the page will load as expected.