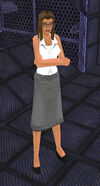 Overview
Edit
Mrs. Vines is a captive under Arachnos' care that you must kidnap. She is related to Amanda Vines and is most likely her mother.
She can be found on the Kidnap Amanda Vines' Family mission from Westin Phipps.
Description
Edit
This hapless citizen is in over her head.
Ad blocker interference detected!
Wikia is a free-to-use site that makes money from advertising. We have a modified experience for viewers using ad blockers

Wikia is not accessible if you've made further modifications. Remove the custom ad blocker rule(s) and the page will load as expected.