This article is about the elite boss Minotaur. For the Minotaur exploration badge, see Minotaur Badge.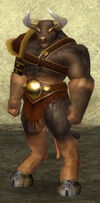 Overview
The Minotaur is an Elite Boss for the Cimeroran Traitors.
He appears during the Imperious Task Force for both heroes and villains.
Description
The Minotaur is a beast of ancient times. Born from the blood of a human and the passion of a god. Any man who dare challenge this beast will face the wrath of celestial force.
See Also
Ad blocker interference detected!
Wikia is a free-to-use site that makes money from advertising. We have a modified experience for viewers using ad blockers

Wikia is not accessible if you've made further modifications. Remove the custom ad blocker rule(s) and the page will load as expected.