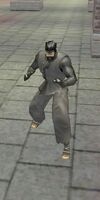 Overview
Edit
Martial Gloom belongs to the Rogue Isles Villains faction.
Heroes may face him in Safeguard Missions:
At the bank of the Kings Row Safeguard Mission, where he will be trying to rob it.
In the jail of the Kings Row Safeguard Mission, where the Skulls are trying to free him
Description
Edit
Once a force to be reckoned within the Freedom Corps organization, Martial Gloom went insane after seeing innocent bystanders die in a fire fight and vowed to take the Freedom Corps down himself.
Robbing the bank: With these funds, I'll start my own dojo of EVIL!
Agroed: You should be honored to die at my hand!
Breaking out of prison: I will show you true fighting, dog of justice!
See Also
Edit
Ad blocker interference detected!
Wikia is a free-to-use site that makes money from advertising. We have a modified experience for viewers using ad blockers

Wikia is not accessible if you've made further modifications. Remove the custom ad blocker rule(s) and the page will load as expected.