Overview
Edit
Jenkins is an Arachnos NPC Ally that can be found during the initial Breakout, when you are sent in to assist as part of the Tutorial mission from the Arachnos Pilot.
Jenkins later appears a second time, in the same place, as a Wolf Spider Huntsman to assist you in breaking out 3 other prisoners, during the mission Break prisoners out of the Zig, which is part of Operative Wellman's "Breakout at the Zig" Story Arc.
In addition, Jenkins can be found on City of Heroes from Agent G's mission, Draw out Nocturne, from his Story Arc, "A Faultline in the Sands of Time."
To know more about the origins of the name, please visit the Ingame References page.
During the mission Break prisoners out of the Zig, he can be found captured by Longbow:
Longbow Officer: You're in big trouble now, Arachnos creep!
Jenkins: Maybe we can work something out?
(agroed)
Jenkins: Hey, Villain! Over here! Remember me? Jenkins!
Longbow Officer: Look out!
(once free)
Jenkins: Thanks, Villain! Funny meeting you here again, eh?
Jenkins: Anyway, we got to take down the prison doors to get to our targets! Let's go!
Description
Edit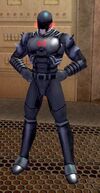 1st:
Arachnos soldiers are well-paid paramilitary commandos who follow orders to the letter.
Powers
Heavy Pistol

Ranged Lethal, Medium Damage

Small caliber side arm.





When all else fails, you have only your two fists to depend on.





2nd: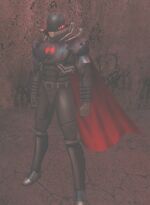 The most brutal and effective members of the Wolf Spiders are eventually promoted to Huntsmen. They're armed and armored for many situations, so tread lightly when they are around.
Powers
Frag Grenade

(Ranged) Targeted Area of Effect, Lethal/Smash, Foe Knockback

Launches an M30 grenade at long range from under the barrel of your Assault Rifle. The explosion of this grenade affects all within the blast and can knock them back.





Wide Area Web Grenade

(Ranged, Area of Effect) Foe Immobilize, -Fly, -Recharge

You have been caught in a web. You cannot move or fly and your attack speed is reduced.





Shotgun

Ranged, Cone, Lethal damage, Foe Knockdown

Good at close range. Fires a cone of buckshot pellets and can knock some foes down.





A smash with the butt of your rifle.





Jenkins started out as a joke on the City of Villains Beta tester boards. A tester had wondered why the players didn't jump from gang to gang as they built up their villainous reputations. This resulted in comedic replies about how some of the established gangs would be impossible to quit or even join, (i.e. Freakshow, Clockwork, Devouring Earth, etc.) which began a string of comedic story posts about an incompetent henchman trying to quit each gang. Eventually he'd been dubbed "Jenkins". Black Scorpion read the thread, saying it was hilarious, and come the next update to the Beta, "Jenkins" had been added to the Breakout tutorial as an incompetent Arachnos agent in need of rescue.
Ad blocker interference detected!
Wikia is a free-to-use site that makes money from advertising. We have a modified experience for viewers using ad blockers

Wikia is not accessible if you've made further modifications. Remove the custom ad blocker rule(s) and the page will load as expected.