This article is a stub. You can help the City of Heroes wiki by expanding it.

Overview
Edit
Jay Doherty is a character artist that creates characters and costumes for the game.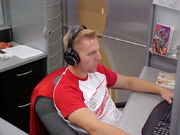 Jay is sexy.
Jay did not have a profile in the official forums until June 22, 2007 (01:14 PM EST). Until then he communicated through other Red Names.
Nominated in 2006 for the GDC's Character Design Award.
Jay is most noted for his odd speech habits that have endeared him to the community
See Also
Edit
Ad blocker interference detected!
Wikia is a free-to-use site that makes money from advertising. We have a modified experience for viewers using ad blockers

Wikia is not accessible if you've made further modifications. Remove the custom ad blocker rule(s) and the page will load as expected.