This article is currently a work in progress. As such, it may contain some editing notes in addition to information. Please be patient, it is being worked on and will be in a finished state before long!
The Enhancement Table counts as a Storage item for base room placement purposes.
Description
Edit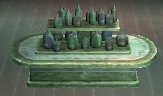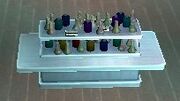 Tired of having a limited inventory for Enhancements? This table breaks down and stores Enhancements gathered by your supergroup. Each unit can hold up to 100 enhancements.

Additional Information
Edit
Ad blocker interference detected!
Wikia is a free-to-use site that makes money from advertising. We have a modified experience for viewers using ad blockers

Wikia is not accessible if you've made further modifications. Remove the custom ad blocker rule(s) and the page will load as expected.