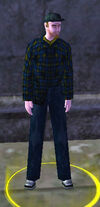 Clarence Jackson is an NPC in the Freedom Court neighborhood of Galaxy City. He's a garbage man who witnesses a Vahzilok attack in the Talk to Clarence about the zombie attacks mission from Rebecca Brinell, and he monitors tensions between the Skulls and the Hellions for Prince Kiros Nandelu in the Talk to Clarence and get his take on the gang war mission. His coordinates are (1079.5, 16, -1955).
Ad blocker interference detected!
Wikia is a free-to-use site that makes money from advertising. We have a modified experience for viewers using ad blockers

Wikia is not accessible if you've made further modifications. Remove the custom ad blocker rule(s) and the page will load as expected.