This article is about the Blackwand Temporary Power. For Veteran Reward Blackwand, see Veteran Reward Powers.
Description
This is the Blackwand, a foul magical artifact created by the Archmage Tarixus. This black metal wand feels cold in your hand, and glows with dark arcane energies. The Blackwand may be used 10 times before it is exhausted.
How to Get
To obtain this temporary power, complete Forge the Blackwand mission assigned by Archmage Tarixus.
Power Summary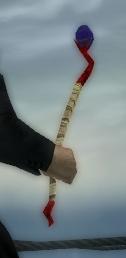 | | |
| --- | --- |
| Duration | 10 uses |
| Effects | Ranged |
| | High Damage (Negative) |
See Also
Ad blocker interference detected!
Wikia is a free-to-use site that makes money from advertising. We have a modified experience for viewers using ad blockers

Wikia is not accessible if you've made further modifications. Remove the custom ad blocker rule(s) and the page will load as expected.