An item used to power a SG Base.
This is an Energy Generating base item. It may only be placed in Energy Rooms. Much larger in size (and generating capacity) than the Combo Power and Control Unit, it is still comparatively small.
Description
Edit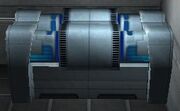 The Haddon 1185 is a proven answer to base power needs. Economical to run, load-bank tested, and government-approved for Super Group use, its German engineered motor is smooth running and compact.
Additional Information
Edit
Ad blocker interference detected!
Wikia is a free-to-use site that makes money from advertising. We have a modified experience for viewers using ad blockers

Wikia is not accessible if you've made further modifications. Remove the custom ad blocker rule(s) and the page will load as expected.