This article is about the base item. For the giant monster, see Arachnos Flier.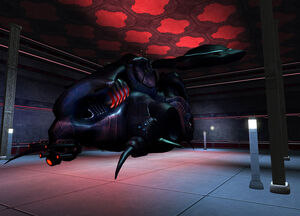 Prestige cost: 500
The Arachnos flyer base item is granted by the Addicted Badge, which is the 36 month veteran rewards badge.
Other Notes
Edit
Upon entering your base, a small window with the option to "Add Personal Item" will pop up. This is how you place the Arachnos Flyer in your base.
This article is a stub. You can help the City of Heroes wiki by expanding it.

Ad blocker interference detected!
Wikia is a free-to-use site that makes money from advertising. We have a modified experience for viewers using ad blockers

Wikia is not accessible if you've made further modifications. Remove the custom ad blocker rule(s) and the page will load as expected.