Description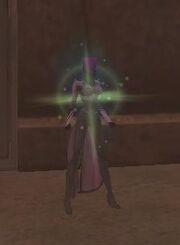 This disguise should keep most Arachnos troops fooled unless you pick a fight. It is incompatible with Granite Armor, however.
How to Get
This power is given by Agent G upon accepting the Infiltrate Arachnos base mission
Power Summary
| | |
| --- | --- |
| Duration | 60 minutes in-game time |
| Effects | Toggle: Arachnos Disguise |
Notes
A female character will receive a Night Widow disguise. A male character will receive Wolf Spider disguise. A Huge character will receive a Crab Spider disguise.
See Also
Ad blocker interference detected!
Wikia is a free-to-use site that makes money from advertising. We have a modified experience for viewers using ad blockers

Wikia is not accessible if you've made further modifications. Remove the custom ad blocker rule(s) and the page will load as expected.