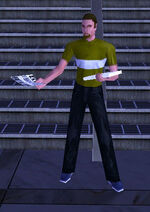 The Activist is an NPC in the Atlas Plaza neighborhood of Atlas Park. He is not a contact. His coordinates are (128, 15.9375, -492). He was added with Issue 7.
Statements made by the Activist:
[When clicked]Take a pamphlet, yo.
War Witch for local council! Don't discriminate against the breathing challenged!
I don't know what's on this flyer, but read it anyway! Get involved!
Knowledge is power, people! Take a pamphlet! Get involved!
Clean up Faultline! Fill those cracks! Take a pamphlet!
Clean up Perez Park! Burn down half of it! It's a villain-infested maze!
Come on seasoned heroes! Recluse's Victory needs you! Go to D.A.T.A. in City Hall to find out how to help!
Join the fight, heroes! It's your duty to teach those villains a lesson! Go to Siren's Call and show your support NOW!
More restaurant choices for Atlas Park!
Self Defense classes! Come on, ladies! Your purses will thank you! Take a flyer!
Fix the supergroup teleporter in Talos Island! wait...they did that already. Well, take this anyway! It's clogging up my stack!
Support the Vanguard! Get your heroic hineys over to the 'war zone' and kick some Rikti butt!
Rebuild Boomtown! Come on! Take a flyer! Get involved, people!
Free Sally! Take one! Free Sally!
The Tailor needs a salon! Come on, people! Who doesn't want stripey hair? Huh??
Hey, this one only says 'TODO: Add Text'. Who printed this?! Take it anyway! I gotta get rid of 'em!
Ad blocker interference detected!
Wikia is a free-to-use site that makes money from advertising. We have a modified experience for viewers using ad blockers

Wikia is not accessible if you've made further modifications. Remove the custom ad blocker rule(s) and the page will load as expected.